If anyone required proof training is a must have rather than a nice to have, or not necessary to have, look no further than the bedlam that has originated from the Rydges Hotel in Melbourne.
Security staff with no experience and training were employed by sub-contractors to work in the hotel where people were quarantining during the early stage of COVID-19. It should have been obvious this was going to end terribly, and perhaps it was, which was then disregarded as in desperate times reckless choices can be made.
In one example, a person was offered a job via WhatsApp and was given the job without an interview, reference check, competency check, and possibly not even a police check. When the individual asked his employer (the sub-contractor) for training on his first day he was advised to speak to a security guard at the hotel. He would quickly discover there was no on the job training , security guards were winging it and doing what they thought was expected. As a result, lives inside and outside of the hotel were put at risk.
Appropriate industry skills such as:
Security management
Communication
Negotiation
Surveillance
Interpersonal
OHS
were apparently deemed irrelevant, as was onsite training specific to COVID-19 quarantine needs.  
A training needs analysis should have been part of the process to identify the skills required to fulfill the role as a bio-safety security guard, followed by the development of a relevant training program including a certification, training delivery, follow-up, up-skill, and refresher if required, or the right people should've been employed in the first instance.
Ill-fated decisions have been made by a lot of people which has resulted in potentially spreading COVID -19 into the community, impacts of which residents in the Melbourne metro region are living as we enter stage 4 restrictions. A lack of training and guidelines has presented variability in work performed by individuals, many of whom were trying their best in the current seemingly hopeless situation.
If we can learn anything from this, it is that training is a must have in all workplaces.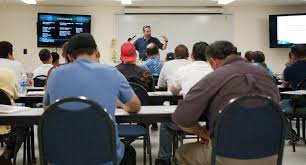 Image source: Goldcoast Locanto