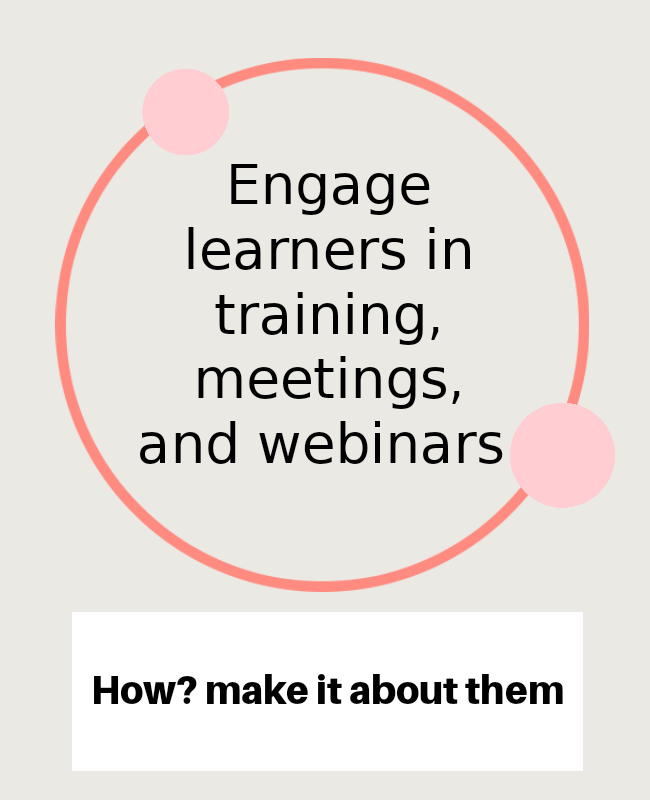 HOW? TALK LESS ABOUT YOURSELF
I've joined a lot of online webinars, meetings, and training lately, and the most engaging ones were delivered by people with training and facilitation skills. What made the sessions engaging for participants, was that the host gave the participants what they signed up for, and they used the technology to engage with people.
When I signed up for a webinar or training, I did so because I found the topic interesting and felt I could learn a new skill or information. When I joined a meeting, it was to discuss things that were shared in the agenda invitation. When the the right information, and the right amount of information was shared in a two way conversation where the host made a connection with participants, the session was engaging and effective.
Most sessions could've been engaging had the host spoken less about themselves, which a lot of people feel they must do with a new audience. It's obviously important to introduce yourself and build trust with an audience, so that they know they're in the right place with the right person. It gets tricky when a session hasn't been clearly planned and too much time is allocated to the wrong topic points. When you have a 30-45 minute time slot, a maximum of 5 mins is sufficient to talk about credentials. The remainder of the time should be used to cover the key topics, summarize, and to conduct a Q & A.
When you spend 15 mins talking about your work history and then rush through the reason why people joined a session, the key topics, it can devalue your message. This can be avoided by creating a session plan or agenda, and practicing it if it is training or any content you're sharing for the first time, be comfortable with the technology you're using, consider how you can invite discussion to engage participants in your online session, and manage your time.
Would you like to improve your facilitation skills? Sign up for our Train The Host training.